Watch this page for an update of what's new in Scottish tourism - exciting new products / ideas or a sample itinerary to whet your appetite for the coming season.
Sample Itinerary
Take a moment to see how Kudos can provide the ideal solution in our sample itineraries:
New Season, New Ideas!
Autumn in Scotland is a very special time – imagine a crisp, sunny day with leaves crunching underfoot, deep reds and golds as far as the eye can see…. Our country's beautiful landscapes become even more stunning and are a sight not to be missed! Here is a small selection of some new products, and ones you may not be familiar with, to tempt you to Scotland over the coming months. We have included a taster of hotels suggestions, and a selection of programme ideas. And not to forget, with the Autumn we look ahead to Christmas, which is a very special time in Edinburgh. From the end of November Winter Wonderland & the Christmas Market arrives in the city, making it an extra special time to visit. In December we can negotiate excellent rates with city centre hotels, making it even more attractive!
Edinburgh
Ever cosmopolitan Edinburgh is seeing a surge in design orientated venues offering the chance to indulge in the latest trends and luxuries. From the contemporary styled 5 star Glasshouse Hotel offering every luxury to Le Monde Hotel, a new boutique property housing feature bedrooms based on world capitals, nightclub, restaurant and bars; from the sumptuous country house hotel Prestonfield House with its lavish decoration and furnishings to Tigerlily, the latest addition to the Montpelier Group's portfolio of stylish Edinburgh venues. Tigerlilly is a plush boutique hotel with 33 suites and bedrooms, an elegant restaurant and trendy bar serving cocktails promising to alter the course of your life! To complement this experience enjoy some top end retail therapy – from the design orientated Harvey Nichols Store to international names such as Armani and Louis Vuitton, Edinburgh is attracting more and more kings of the fashion world.
Hotel News
| | |
| --- | --- |
| George Hotel | 4 star superior |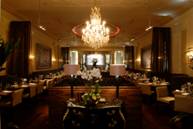 Dating back to the 19th Century the George Hotel is a fine example of a classic Georgian building occupying a prime site in the heart of Edinburgh's New Town. Recently taken over by Principal Hotels, the George is nearing the completion of a £14 million refurbishment to restore it to its former glory. Although retaining many of the original architectural details, all 195 bedrooms have been transformed and given a contemporary new look. The existing "Carver's" Room will become one of Edinburgh's premiere event and dining venues, the "King's Hall" seating up to 300 pax for dinner. The hotel now also boasts one of George Street's coolest bar and restaurants, Tempus, offering sophisticated contemporary surroundings and the best of local produce, international wines and cocktails. Whilst reflecting the elegance of its Georgian Heritage, the George will offer every service associated with a modern first class hotel.
| | |
| --- | --- |
| Winnock Hotel, Drymen near Loch Lomond | 3 star |
Situated in the picturesque village of Drymen overlooking the village green is the Winnock Hotel - a former coaching Inn where a warm and friendly welcome always awaits. The property has been extensively refurbished and modernised to provide all the amenities and comfort required by visitors whilst retaining all the 17th century character of the original Inn. 24 new bedrooms have just been added, taking the total number of bedrooms to 72. Of the new bedrooms, 7 are luxury rooms featuring balconies and plasma screens not only in the bedrooms, but the bathrooms as well. The Winnock makes a good base for a group who wish to explore the Trossachs, Glasgow or Edinburgh, and also offers a range of meeting rooms and dining possibilities.
Dining
The Jam House, Edinburgh
Soon approaching its 1st birthday, the Jam House is an excellent addition to Edinburgh's entertainment scene. The Jam House is housed in the former BBC headquarters in the heart of the Georgian New Town. The talented musician and entertainer Jools Holland is the mastermind behind this new venture and has created a venue to provide the best in live music, great food and good times – a unique entertainment venue in Scotland. Dine in the fine dining restaurant on the balcony level overlooking the stage whilst you are entertained by varying artists during the course of the evening and finally the house band at approx. 22.00 hrs. An evening here therefore offers a mix of good food, great atmosphere and lively entertainment!
Activities
"Pedicab"
For a novel way to get around hire a fleet of pedicabs, the Edinburgh version of the rickshaw! Your dedicated pedicab-driver will drive you around the city using only pedal power. Sit back with a tartan rug keeping you cosy as you enjoy this fun, unique and environmentally friendly way to travel!
Highland Adventure Safari
Climb aboard your safari Landrovers to head north with kilted driver-guides into the magnificent mountains of Highland Perthshire. With panoramic views over the hills and glens this is a unique journey of discovery. Climb to heights of 3,000 feet, with plenty of opportunities to stop and enjoy the breathtaking views scenery and wildlife of world-class quality. This is home to the Golden Eagle, the majestic Red Deer and the Blue Hare to name a few! Enjoy the breathtaking scenery overlooking the market town of Aberfeldy. Pass mountain lochans and ancient settlements travelling through forest and moors on private hill roads. At a scenic spot enjoy a nip of whisky and a picnic lunch while your driver-guide gives you an insight into its fascinating Biodiversity.
Fungi Foray
Scotland offers a vast range of wonderful produce and today will take you on a foray for fungi! Led by a tutored expert you will be taken to a secret location – an area likely to supply a wide range of fungi - and given hints and tips for a successful foray. Following your search enjoy a light packed lunch of food and wine whilst your expert will identify any mushrooms found and will entertain and educate with a fascinating talk about the joys and dangers of wild fungi!
Exciting Developments at Glengoyne Distillery
Glengoyne has expanded its capacity for looking after VIP groups with the introduction of its new sample room. Spectacular in design each wall is lined with an array of sample bottles containing whiskies at different stages of maturation from thousands of Glengoyne casks. The Sample Room will allow visitors to take their whisky knowledge to new levels, really getting them "inside the barrel". Guests will also have the opportunity to create their own unique blend of whisky under the watchful eye of the sample room blender. This is expected to appeal to both whisky aficionados looking to expand their knowledge as well as corporate customers wanting a new and unusual team day out.
Winter Wonderland and the Christmas Market
In addition to the pretty Christmas lights and decorations which make the city even more attractive at this time of year, Edinburgh is becoming well known for its Christmas Market, Winter Wonderland featuring an ice rink, big wheel and market stalls! Wander around the various market stalls which sell handmade arts, crafts and Scottish delicacies– perfect for last minute Christmas presents. Sip a glass of mulled wine as you watch the ice-skaters on the open-air ice rink. If you wish you could even have a go on the "Big Wheel" which offers a birds-eye view of the city!
For more creative and innovative ideas tailored to your individual request, contact Anne or Carol at Kudos on info@kudos-scotland.co.uk
News Archive
Visit previous news pages here:News Archive